A "Zero FIR" can be registered by any police station irrespective of whether the complaint has got a territorial jurisdiction or not. When an information given by the complainant amounts to a cognizable offence against women the police station is under an obligation to register the FIR, irrespective of its jurisdiction. In the Gang Rape and brutal murder case of the Hyderabad vet, his family claimed that the Shamsabad police had postponed the filing of FIR on jurisdictional aspect. Thereafter, all police stations in the state of Telangana have been ordered to apply the "zero FIR" rule in the offences relating to women.Zero FIR can be registered but not numbered. This unnumbered FIR is sent to the police station in question, where it is numbered and then prosecuted for investigation. According to the provision of Zero FIR, failure to register a Zero FIR is a punishable offence under Section 166-A of Indian Penal Code amounting to rigorous imprisonment for 6 months which may extend up to 2 years and with fine.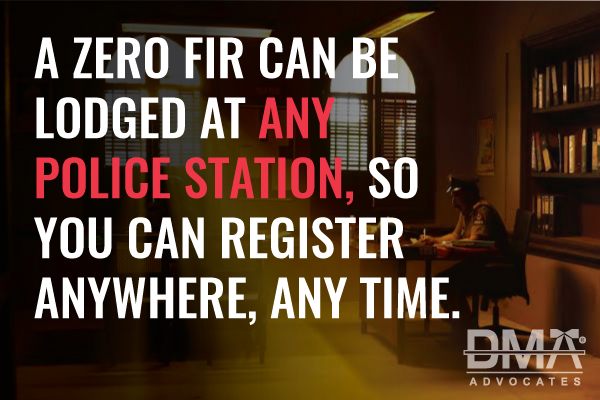 THINGS TO REMEMBER:
Statement will be recorded by the police officer in writing.
All details, without any speculation or assumption should be provided to the police during the statement.
Make the statement official by signing the register.
Get a copy of your complaint and ask for the identification number or Roll number.In India, around 93 cases of rape are reported everyday.
It is high time for the police to overcome their lethargic behavior and take quick actions in making India safe and sound for women.
Provisions such as ZERO FIR are essential to promote the justice process in a very effective way.